New York/Paris, a solo show of paintings by Nick Savides, opens on Thursday, October 22, with a reception from 6-8, and runs through November 28.

Meatpacking District, oil on linen, 24x36, 2009

     New York and Paris will also be the theme of an evening of song and dance the following Thursday, October 29, at 7 p.m.  The event, by and for Downtown Music Productions, will include works by Poulenc, Lependorf, Spektor, Weill, Bernstein, Mayer, and Kogan.  Tickets are $30.


Boating in the Luxembourg Gardens, oil on linen, 24x36, 2009

     Nick Savides learned to paint as a young child from his mother (an amateur painter) and never stopped.  At Brandeis University, he studied under the New York figurative painter Paul Georges and learned formal composition and painting techniques.  It was then that he knew he wanted to make a career in the art world.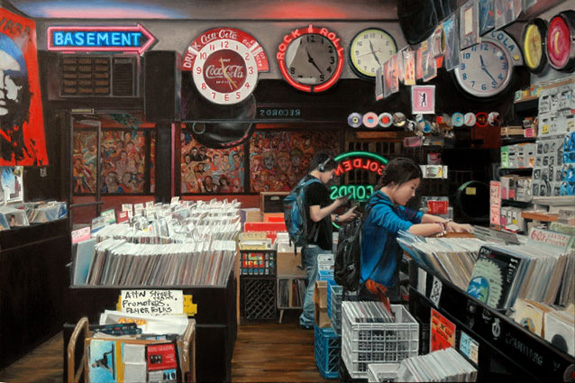 Bleecker Bob's #3, oil on canvas, 28x42, 2007
     He has always been a representational artist and over the years has done landscapes, cityscapes, portraits, and figurative paintings.  His paintings tell a story, and at once have a sense of mystery, drama, and calm.  Starting out, Savides focused on paintings of people in interior settings, drawing on Johannes Vermeer as an influence.  The effects of light became--and stayed--a key ingredient in his paintings.  Moving to New York in 1980, he moved on to city scenes.  Living in the Village and traveling to Paris, he painted people in the context of the streets of both cities.


Man with Cigar in the Luxembourg Gardens, oil on linen, 24x36, 2009

     Inspired by the beauty of Martha's Vineyard, he started to focus on New England landscapes.  Influenced by Edward Hopper, Winslow Homer and Albert Pinkham Ryder, among others, he continued to work in oils and for a time also in watercolors. From the cliffs of Martha's Vineyard, Savides moved on to the canyons and badlands of the American West, painting scenes inspired by national parks in Utah, Arizona, South Dakota, and Wyoming.  Closer to home, he drew inspiration from the farms and horse country of Dutchess and Litchfield Counties.
In the past few years, Savides has gone back to city themes, painting scenes inspired by the Financial District, the Meatpacking District, and Times Square in New York City.  More recently he returned, literally and figuratively, to Paris.
New York/Paris is the artist's first one-man exhibit at the Nabi Gallery, although he has participated in several group shows here as well as numerous solo and group shows at other galleries in New York City and elsewhere.  A catalog has been published by Nabi Press and is available at the gallery and from Amazon.com.