Nabi Gallery, 137 West 25th Street, New York, NY 10001
James Britton, Early 20th Century Artist, is Back
     Landscapes, drawings, and portraits by James Britton (1878-1936), a noteworthy American painter whose work has been regaining critical favor, were last on view here in September, 2007.

     Well-known in his time both as an artist and a critic, Britton lived and worked in Connecticut, New York City, and Sag Harbor, L.I.  Born in Hartford, he moved to New York at age 17 to apprentice as an illustrator at Scribner's Magazine and to study at the Art Students League.  Later, while living in Greenwich Village, he organized a group of painters and sculptors known as The Eclectics (including Maurice Prendergast, George Luks, Guy Pene du Bois, and Philip Hale) with whom he exhibited regularly.  As a critic for American Art News, he reviewed contemporary events such as the Armory Show of 1913.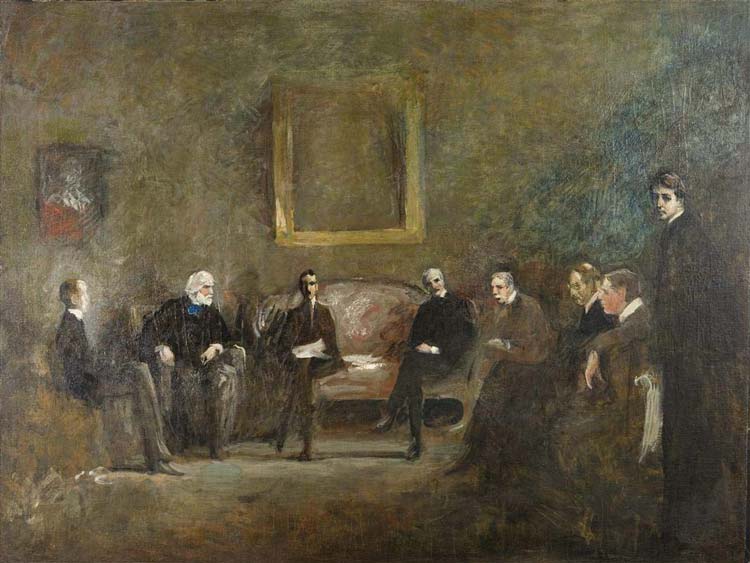 The Council of Artists (Connecticut Academy of Fine Arts), oil on canvas, 36x48, 1921
From left: Charles Foster, Robert B. Brandegee, Henry C. White, C. Noel Flagg,
Daniel Wentworth, Thomas Brabazon, R. Russell Seymour, James Britton
     Britton was a compulsive painter of landscapes, often revisiting the same scene over and over to study the changing effects of light and cloud.  Chronically short of funds with which

to buy materials, he painted on whatever came to hand, including cereal boxes.  These works convey a spontaneity and a delight in color and texture that make them seem still fresh today.
Blue, Silver, and Orange (Hamilton Park, Waterbury), oil on board, 8¾x17¾, 1926
     The Nabi exhibit includes a variety of landscapes that Britton produced in Sag Harbor and in Connecticut, where he returned toward the end of his life.  Along with small pieces on board or panel, there are several rare works on canvas, a sampling of woodblocks and prints, and several of the portraits for which he was known during his years in New York.
Spring, St. Mary's, South Manchester, oil on canvas, 30x40
Aside from a 1936 memorial exhibition at the Wadsworth Atheneum in Hartford, Britton's work was seldom seen in the decades following his death—until his granddaughters Ursula and Barbara took up his cause in the 1990s, attracting renewed attention from critics and curators.  There followed a series of exhibits at museums in Connecticut and California, culminating in the summer of 2005 in James Britton: Connecticut Artist at the Lyman Allyn Art Museum in New London.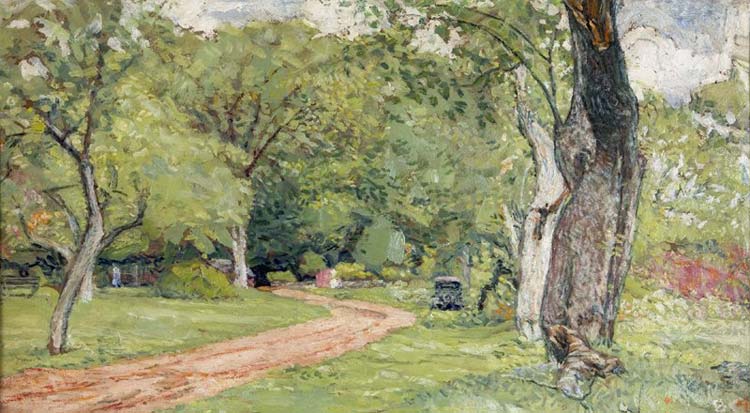 Lane to Oak Grove, oil on board, 12x17, 1934
     The work was brought to the Nabi Gallery's attention in 1998 by the late critic and curator Ronald Pisano, who noted its stylistic match with the gallery's inventory of more recent artists.  At that time the Nabi occupied space in Sag Harbor—in, by remarkable coincidence, the same building where Britton had rented a studio 75 years earlier.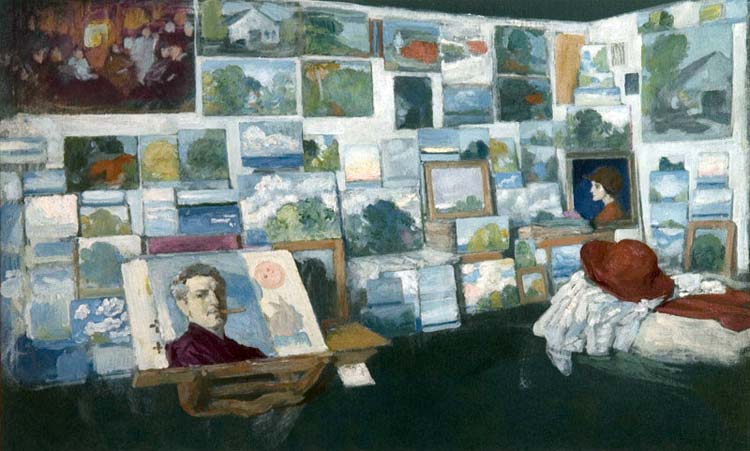 Sag Harbor Studio, oil on canvas, 24x36, 1925
(Including portraits of the artist and of his wife Caroline)
     Subsequent exhibits in the Nabi's new Chelsea space have marked the artist's return to a city where his last one-man exhibit had taken place in 1924.

Orange Rosalie, oil on canvas, 26x21, New York, 1921