The Nabi Gallery has been associated with the estate of the late Newton Haydn Stubbing since the exhibit that opened its first season in May, 1996: a retrospective of his work titled From Altamira to Sagaponack.
The title referred to two poles in Stubbing's career. The British-born artist, who lived in Spain after World War Two, was profoundly influenced by the prehistoric cave paintings at Altamira. Their ritualistic, hand-painted images led him to abandon his brushes, and for 20 years he would apply paint to canvas directly with his hands.
These early works, which he called "Ceremonials" and "Rituals," bear some kinship with the Abstract Expressionist movement but, like the cave paintings, evoke sensations of mystery and magic. Some are like vortices of light, outlined by handprints. Others suggest human or animal-like forms, as when the artist, after traveling in the American Southwest, painted a series of images inspired by the Native American "Trickster" legends.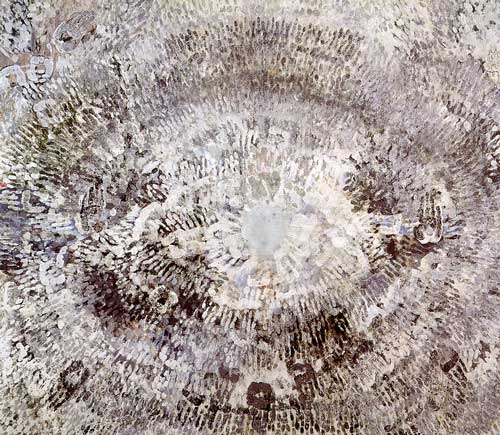 Spring Ceremonial, oil on canvas, 66x76, 1959
Later in life Stubbing divided his time between London and Sagaponack, Long Island, where he shared a house and studio with the art critic Yvonne Hagen. In this period he resumed working with brushes, having suffered health problems that were apparently caused by chemicals absorbed through his skin during the years he painted with his hands. From that time on his work was characterized by luminous, subtly toned and layered expanses of color that, while seemingly abstract at first glance, always evoke the feeling of a specific landscape.
A Long View at Wainscott, oil on canvas, 33x63, 1981